Hello everybody!
Tiffany and I are so excited to share with you the new Scrap Your Scraps Contributors Call!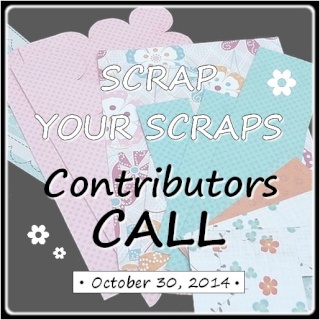 What inspires you ? How do you manage to use what you already have ? If you want to share your best ideas, your best links and your best projects with us (layouts, cards, mini albums...), don't be shy and apply for this contributors call!

Send us a message before the end of the month (see contact form on the blog) telling us why you would like to take part to this blog, and where we can see your work (blog, gallery...). No previous experience needed.
You will be asked to write one blog post by month (with your project), and to make a project for one other contributor's blog post from time to time (at least twice during your 6 monthes term; you can participate each month if you want but it's not a requirement).
The contributors term will be from December 2014 to May 2015.

And if you love this blog but don't want to contribute, you can still follow us on Bloglovin, Facebook or Pinterest !

We would love to hear from you.